Toronto
Toronto teaching events and study group
Lama Yeshe Ling Toronto provides a regular program of Dharma philosophy and meditation with renouned Tibetan scholar Geshe Thubten Samdup (Gomde Lharampa), author of the acclaimed The Great Gomde Dictionary, a unique encyclopaedic dictionary of Dharma terms in Tibetan.
For more information about our teacher Geshe Thubten Samdup here is a link to his Biography.
For more details on programs and events in Toronto, please visit Lama Yeshe Ling Toronto or follow the Toronto Facebook Page.
---
The Seven-Point Mind Transformation (Lojong) with Geshe Samdup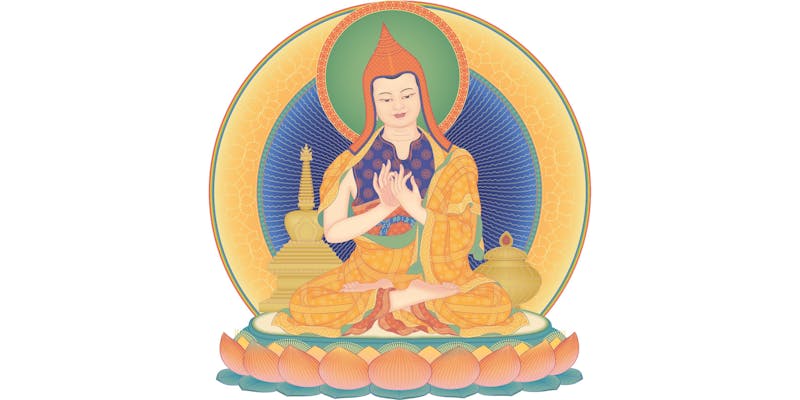 Wednesday Evenings 7:00-9:00pm
Jan 16, Jan 30, Feb 13, Feb 27, March 13, March 27
In our upcoming series of teachings, we will be studying The Seven-Point Mind Transformation (Lojong) which was written by Kadampa Geshe Chekhawa Yeshe Dorje in the 12th century in Tibet.

Lojong is mind training or thought transformation practice. It is a practice of looking deep into our being in order to uncover the root of all our suffering and gradually undo the causes of our suffering by simply changing our mind. The main subject of mind training practice is the reorientation of our basic attitude toward ourselves, other sentient beings, as well as the events around us. Often we tend to cherish ourselves while neglecting the welfare of others. The mind training teachings challenge us to reverse this way of thinking in a way which allows us to experience happiness and inner peace.

At the heart of the Seven-Point Mind Training lies the idea that the circumstances that life brings us, however difficult, are the raw material from which we create our own spiritual path and transformation. The central theme of the Seven-Point Mind Training is to make the liberating shift from the constricting solitude of self-centeredness to the warm kinship with others which occurs with the cultivation of cherishing others. This mind training is especially well-suited for those with a busy life. It helps us to reexamine our relationships—to family, friends, enemies, and strangers—and gradually transform our responses to whatever life throws our way.

The Seven-Point Mind Transformation are:

Explaining the preliminaries as a basis for the practice
Training in the awakening mind
Transforming adverse circumstances into the path to enlightenment
The integrated practice of a single lifetime
The measure of having trained the mind
The commitments of mind training
The precepts of mind training
---
Meditation and Lojong Discussion Group

Wednesday Evenings 7:00-9:00pm
Jan 23, Feb 06, Feb 20, March 06, March 20
When we have a problem of any kind we can easily be overcome by negative emotions. Some of these emotions are quite destructive, they can cause us tremendous suffering and affect the quality of our lives; and also cause us to harm others, even our loved one. Through regular meditation practice, we can learn how to deal with these emotions.
When meditating regularly, even after a short period of time we can clearly see good results. We will find ourselves becoming calm, relaxed, clear-minded and less disturbed. With long-term practice, we can learn to gradually develop a refined, focused awareness. This provides us with insight into our own minds, and a clearer understanding of reality. Through meditation, we can learn to deal with our destructive emotions, lessen our suffering, develop compassion and other positive inner qualities, gradually helping us become of greater benefit to others.
Lama Yeshe Ling Toronto would like to invite you to join us for alternating weeks of The Seven-Point Mind Transformation teaching with Geshe Thubten Samdup; Meditation and Discussion every other week. Every Meditation and Discussion session we will practice several meditations as taught by our teacher Geshe Samdup. We will then follow up with a discussion of the teachings from the previous week.